7th - 8th Grades - Ancil Samuel
 Mrs. Samuel is returning to OACS this August 2022. She has been teaching for the past 31 years.
Twenty-nine years in SDA institutions and two years in public. She has taught in St. Vincent and the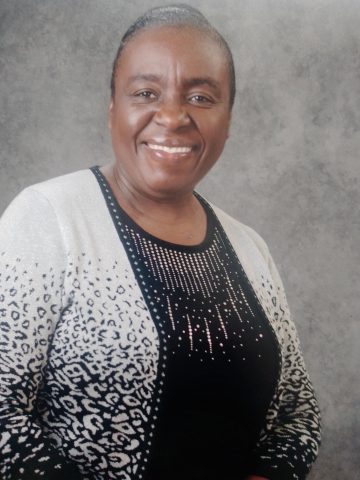 Grenadines – her homeland, St. Thomas USVI, New York and Florida- USA.

Mrs. Samuel is married to her childhood friend, Cordel Samuel, together they have two children Larnell, a Junior at Southern Adventist University, and Charel a freshman at Oakwood University. Her hobbies are singing, travelling and cooking.

Mrs. Samuel who earned a bachelor's degree in History and English and a master's degree in Educational Administration from Andrews University, Berrien Springs, Michigan, acquired her Doctoral degree in Educational Management in 2020 from Universidad de Montemorelos, Monterrey, Mexico. In the area of certification, she holds both professional and administrative teacher certification certificates from the Southern Union.

At OACS she teaches all subjects in the 7th and 8th grade classroom. She states that it is an honor for her to serve as a dual-grade teacher with the task of leading students to Christ. Her class consists of 7 - 7th graders and 13 - 8th graders. This year her theme for her class is "A Fresh Start with the fruit of the
Spirit". Her belief is that "the success of each child is determined by student buy in, her commitment to
God and to them and parent participation". Her aim is to be a witness to the families that God place in
her sphere of influence – ensuring that each child grows spiritually, emotionally, socially, academically,
and physically.

For Academics this year the students of the 7th and 8th grade class will be exploring and discovering the
following based on the Florida Conference Initiatives:
Bible – God Calls, a study of the Patriarchs and other Bible characters who were called by God. This
program called the Encounter Series was created for the North American Division of SDA, Education
Department.
Math - Big Ideas, inclusive of hard copy text, math journals, manipulatives, and online practice.
Social Studies- Discovering Our Past – A History of the United States
Science – By Design, An Adventist Science curriculum that is faith based, published by Kendall Hunt
Literacy – Wit and Wisdom: a comprehensive language arts program inclusive of reading, writing,
spelling, vocabulary, and grammar.

Mrs. Samuel is super excited to be used by God once more at OACS. Her belief is, when we surrender
completely to God, amidst the difficulties life throws at us … He orders our steps. Her aim is to be a type
of Christ by maintaining a Christ-like attitude as she teaches. She implores the students, parents,
coworkers, and the constituent church to work together with OACS to ensure a successful year.

She invites you to "Come and experience – A FRESH START … knowing that God's love awaits you and
your child".